How to bounce back from redundancy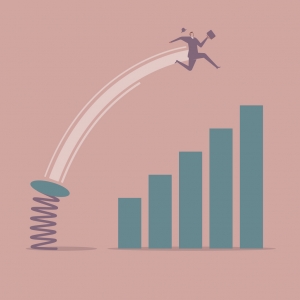 If you're going through a redundancy or have in the past, you'll understand the enormity of change it can cast on your life. In today's business climate, redundancies are common and usually out of our control. As technology evolves and workplaces change, restructures occur and redundancies become inevitable. Then there are national and global events that no one can prepare for.
Being made redundant is generally a stressful time, with the loss of income and uncertainty about your next steps. But it can also give you a chance to pause and reassess your career path. It can be the catalyst for positive career change and ultimately take you down an exciting new road.
Read on for our tips on how to bounce back.
Don't panic! Resist the urge to spring into action immediately. Take some time to regroup and reflect on your new direction. Remember, you're not alone – many people go through a redundancy at some stage. In fact, there was a 45% increase in redundancies from 2017 to 2019, according to the Australian Bureau of Statistics. And it doesn't necessarily reflect badly on you, since many companies have downsized or restructured in recent years, and there are often circumstances beyond your control.
Reassess your career path. This is an opportunity to evaluate your career path and goals. Make the most of the time you have now to set a new course for the future. Look back on your career to assess previous roles and reflect on what you enjoyed. Consider different factors for your next role – for example, market sector, location, company size, organisation structure, responsibilities, salary and benefits. This can help you pinpoint your preferred path. And once you start searching for a new role, this information could provide a perfect recruiter brief, helping recruiters to understand what's important to you and where you want your career to head.
Consider studying or retraining. If you're interested in a change of career, research the skills needed to make that change. Look at online and face-to-face courses and get a clear idea of what's needed to move into your chosen area.
Update your resume and LinkedIn profile. When you're ready to kickstart your job search, your first task should be to update your resume, LinkedIn profile and other relevant profiles. Nearly every industry uses LinkedIn to research candidates, so make sure your LinkedIn profile is more than a storage place for career contacts – it should be an evolving record of your professional life that helps market you as a great candidate. Make sure your work experience is up to date, your profile picture is current and your contact details are displayed. You can also set your profile to 'Looking for a job' which makes it easier for prospective employers to find you. Once your LinkedIn profile is up to date, you can align your resume with it, adding more detailed information about your responsibilities and achievements. Having your resume ready to go means you can take advantage of opportunities as they arise.
Start your job search. After preparing your LinkedIn profile and resume, it's a good idea to brush up on your job application and interview skills. You should also register with relevant recruitment agencies and set up automated job searches on Seek and LinkedIn. If there are specific companies you'd like to work for, visit the careers sections on their websites and send them your resume. Or you could try connecting with current key employees on LinkedIn.
Reach out to your networks. Leverage your network of connections by letting them know you're looking for a new opportunity. Email them, call them, organise a coffee catch-up – you never know where it may lead. Taking advantage of your network can be key to securing your next position.
Maintain a positive routine. Your mental well being can take a hit when going through a redundancy, even if it's voluntary. Work provides a huge amount of structure to your life, so when you no longer have that, it's important to create positive routines for yourself. This will help you maintain a healthy body and mind and a professional presence. Do things that make you feel good such as exercising, eating well and catching up with friends and family where possible. Redundancy doesn't last forever, so staying positive and focusing on your well being alongside planning your next career move will help you progress in the right direction.
Stay open-minded. The job market constantly shifts, salaries fluctuate and competition can be fierce. While it might not seem ideal initially, being open to compromise when it comes to your next role or salary can help you find the right opportunity. It won't always be as simple as walking into a similar role in a different company or jumping straight into your dream job. Use your redundancy as a chance to assess different types of roles that might be a good fit. Think laterally, considering your transferable skills and what you enjoy most. Your next role may not always be what you expect – but it could be your best yet!
Finding your way forward after a redundancy can feel overwhelming. If you've lost your job, you're considering changing careers or you're unsure of your next step, our Career Counsellors can provide guidance and clarity. Our team of professionals can also assist with LinkedIn profile writing, resume writing and interview training and coaching.