How to boost self-confidence at work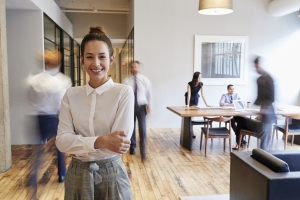 While it is a generalisation, successful people are often fairly confident people – or can at least find self-confidence when they need it most. But there's a fine line between confidence and arrogance, and people who aren't naturally self-confident sometimes struggle with this. Building self-confidence doesn't have to mean a complete personality overhaul – you can take some small, simple steps to become more self-assured, and this may help you achieve increased career success.
Here are our top tips:
Push yourself: Getting outside your comfort zone is key to improving self-confidence. If you feel you could do your job with your eyes closed, it might be time to stretch yourself. You could do that in your current role by offering to help on a project where you'll build new skills, or do something outside of work that challenges you while building professional skills.
Visualise success: Having a clear picture of what success means to you is important. Many experts will tell you that the first step to achieving a goal is to visualise yourself doing so. You could imagine yourself working in your dream job or behaving with more self-confidence in an area that's important to you.
Assess yourself: Take stock of where you're at and what you have to offer. Write down your skills, qualifications, experience and successes, and how they relate to the role(s) you'd like to secure in the future. Writing down your accomplishments can immediately boost your self-confidence, because more often than not we underestimate ourselves.
Fake it! We never advise clients to lie or mislead, but this tip relates to acting confident to help you overcome your fears. 'Fake it till you make it', as they say. Adopting a more positive 'can-do' attitude or taking on more responsibility even though it may seem daunting are likely to help build your self-confidence.
Communicate: You need to be able to clearly and concisely articulate what you think and need. If you have concerns, voice them! If you need help, ask for it. If you feel you can talk to your manager about issues – great. If not, seek a trusted friend or colleague with whom you can share your frustrations. Being open and sharing what's bothering you can help you feel more in control and give you more confidence to determine possible next steps.
Learn to say 'no': There are times at work when you should say 'no'. Unreasonable requests can make you feel out of control. Being assertive allows you to set limits for yourself without being seen as the bully. Learn to say 'no' where it is warranted, and you'll likely feel more confident and in control.
Seek help: Self-confident people often know what they can handle and they delegate the rest. If you're feeling overworked, talk to your boss and figure out how the situation might be improved.
Get a mentor: Mentors provide a safe space to bounce ideas around and decide which way to go in certain situations. They can also make suggestions to help refine your ideas or point out things you can't see clearly. This includes successes and achievements that can boost your self-confidence.
Learn new skills: One of the best ways to feel more self-confident is to up-skill. If you're feeling out of touch with something, find an online course or even just watch a relevant YouTube video. If you take the time to gain the skills you need, you might just begin to feel more confident in yourself.
Accept self-doubt: Even the most confident people sometimes doubt themselves – but they don't let that self-doubt take control. When you have negative or unconstructive thoughts, acknowledge them but try to analyse if your concern is valid or an over-reaction. Getting someone else's opinion here can help – the goal is to push past the doubt and move on.
Dress for success: It might be a cliché, but appearances can help you get ahead. Making a little bit of effort with your appearance can go a long way to feeling more self-assured.
Choose your friends wisely: Another well-worn cliché that again is true – choose to spend your time with people who make you feel good about yourself, including in the workplace where possible.
Let go: Try not to dwell on the past or get caught up in what might have been. Instead of worrying about things you can no longer control, stay focused on the future.
Forgive yourself: Beating yourself up about mistakes is not helpful. Self-confident people often learn from their mistakes and move on, knowing they won't let it happen again.
If you feel like your self-confidence at work could do with a boost, start with small steps. You might like to try just two or three of our tips above to start – but do them consistently and hopefully you'll see your self-confidence start to bloom.
Is your lack of self-confidence holding you back in your career? Find out how our experienced and compassionate Career Counsellors and Career Coaches can help.