9 steps to success in your new job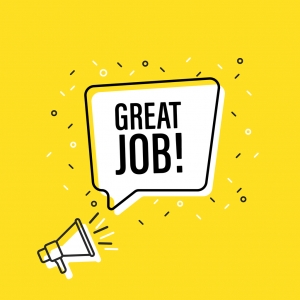 You aced the interview, negotiated the job offer and now you're a new employee. But now is not the time to relax and put your efforts on cruise control. While it's the company's job to help you settle in and learn about office culture, how successful you are in your new role is largely up to you. The first few months are critical and you need to put serious time into showing management they made a smart decision in hiring you.
Here are 9 ways to quickly impress your boss and set your path to success.
Research before your first day: There are many things you'll need to learn on the job, but some can be learned by reading and researching at home. Review the company's website and any related media or other information about recent events. Do your homework, and your boss will be impressed when you can add value from day one.
Understand what's expected of you: Building relationships with your superiors is important, but you should also spend time learning about what they expect from you. This can include the expectations listed in your job description, as well as informal expectations such as networking, helping others, and supporting the broader goals of the company. If you can help your boss achieve their goals, this will be a huge plus for you.
Manage your time well from the start: Arrive at work on time or early, ready to focus. Organise and prioritise your work. Create to-do lists and achieve as much as possible every day. Avoid the temptation to check social media, text your friends or zone out an hour before the end of the day. Do your best to be fully engaged and productive every single day.
Be proactive: You should start accomplishing your goals and making connections as soon as possible. Your first few days on the job are crucial to creating a good impression and understanding what's required for you to succeed. You may come across some issues that you've never encountered before, or tasks that you're unsure how to complete. Rather than immediately turning to your boss for help, try to resolve the issue on your own. Investigate the problem, think through possible solutions, observe your colleagues, use Google, and then once you have some ideas, seek out the advice of a team member or superior. You should also take advantage of extra opportunities to contribute, such as pitching in on open projects or volunteering for committees. By offering to shoulder more responsibility where it makes sense, you'll show your boss how committed you are.
Ask lots of questions – but try to answer them first: Even when you try to absorb everything your new boss or colleagues say, you're still bound to have lots of questions. It's normal and shows you're engaged. However, see if you can answer your own questions before approaching someone else. Use the resources at your disposal, such as the company handbook, training guide or your own notes. Observe how others handle similar situations. This way, when you do need to ask your boss a question, you'll have some background knowledge.
Set realistic goals with your boss: Your goals for your role should be set in collaboration with your boss, so you can find common ground and get their stamp of approval. Your boss can also let you know which goals might need to change and what your immediate priorities are.
Secure early wins: Consider ways you can build momentum right away. Try to identify an immediate contribution you can make to the team. This will ensure people see you in a positive light and show your boss that you're committed to the team's success.
Follow through: Dependability is a quality that employers look for, and there's no better time to prove that you're reliable than now. Ensure you complete tasks either before or on deadline. Arrive at meetings prepared and ready to contribute. If you say you'll do something, make sure you do it. If you know you're going to miss a deadline or not finish something as expected, be transparent and inform your boss early on in the process.
Get to know people: Demonstrate your interpersonal skills by circulating around the office and staff kitchen to get to know people quickly. Not only will this help you settle in and adjust to the office culture, it'll also help you build a great base for communication and teamwork. Stay positive and friendly, and be mindful of others and their opinions. Getting along with a variety of people can improve your chances for a promotion down the track.
In your first few months of a new job, you've got a unique chance to make a great impression and set a foundation for future success. By following the steps above, you'll make it clear that you care about your job and the company, and you're serious about making a positive impact.  
Do you need expert guidance to succeed in your new role or take your career to the next level? Are you ready to find a new job or career path, but not sure how to go about it? Our career experts can help you confidently take your next step. See our Career Coaching Services to find out more.