7 ways to balance work and study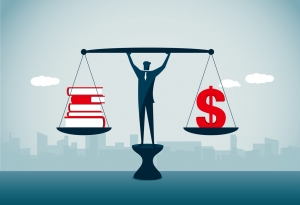 Working while studying means you can keep paying the bills, while gaining the skills to advance or change your career. But this combination can feel overwhelming. Read on for our tips on balancing work and study while staying motivated to get it all done.
Make your study meaningful: There's nothing more motivating than studying a topic you are really passionate about. Whether you're wanting to advance or change your career, make sure you choose a course that's meaningful and worthwhile. This will help you stay focused from day one.
Establish a dedicated study space: There are so many things to do at home, from watching TV to cleaning the floors, it's easy to get distracted. You need a quiet space where you can hide away and focus solely on your studies. Whether it's a whole room or a corner in your bedroom, fill your study space with inspiration, such as quotes and images that remind you of your goals. Keep all of your study materials in this space, so you don't waste time searching for things.
Get creative to carve out more study time: There are many ways you can schedule study into your day around work. If you catch public transport to work, consider doing some study on your commute. If you drive to and from work, audiobooks could be a good option. If you're able to find a quiet space at work or in a nearby park, try to squeeze in an hour of study at lunch. For parents juggling children, you might be able to study while waiting to pick them up from their endless after-school activities. Think creatively to find those opportunities outside of traditional study time.
Set a study goal: Know what you'd like to achieve in each study session and use your allocated time to work towards that goal. Prioritise your tasks and start bigger assignments in plenty of time. To keep our brains performing at their peak, some experts recommend studying for 50 minutes, then taking a 10-minute break. Having short study sessions every day, or every few days, ensures the material remains fresh in your mind, and gives you time in between to digest what you are learning.
Delegate household tasks: It can be challenging to focus on study when you get home from work and have to cook dinner, do the washing and tidy the house! So delegate what you can to your partner, children or flatmates. Sharing the load should create more time to study after work or in the evenings. If you find it difficult to delegate, set yourself a time limit to complete what needs to be done, so you have time left for study.
Keep healthy: When we're busy, it's easy to stop exercising and eat more fast food, but at these times it's more essential than ever to stay healthy. To make sure you can stay on top of your work and study, stick to a healthy eating plan and get some exercise each day. Exercise boosts the chemicals in our brains that help us deal with stress. It also releases endorphins, which make us happy and reduce anxiety. Cardiovascular workouts can even help create new brain cells and improve overall brain performance!
Reward yourself: It's important to reward yourself when you meet your study goals. This keeps you motivated and gives you something to look forward to. So take yourself out for breakfast, go for a bush walk or buy that shirt you've been eyeing off. You deserve it!
Are you considering studying, but you're not sure what the best courses or qualifications are to help you change or advance your career? Our Career Counselling services can help set you on the right path.